Wherever you can take an LPG bottle, you can take the CAMPLUX. And enjoying a CAMPLUX shower is as easy as flipping a switch. CAMPLUX gives you a water flow of up to 480 liter per hour. Choose the right temperature for you with simple adjustment of the gas and water controls. Our LED displav shows the exact degrees of hot water. useful for setting your favourite shower temperature and safely washing your pets. The internal micro-processor of your CAMPLUX prevents the water temperature from going above 77℃  protecting family and pets from nasty scalds.
Connects in Seconds
Connect water in. Connect water out. Connect gas. Done. With colour coded snap-on fittings, you simply cannot go wrong.

One Touch Operation

No launch sequence required. Simply flick the switch on the shower handle, and the hot water starts flowing.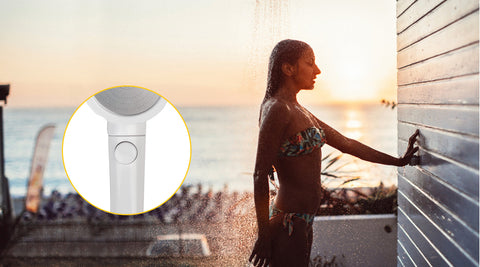 Portable as
At just 4.7kgs, CAMPLUX packs up tiny, so you've got more space for the rest of your gear. And with our ensuite tent you can set up camp with a luxurious level of comfort and privacy!