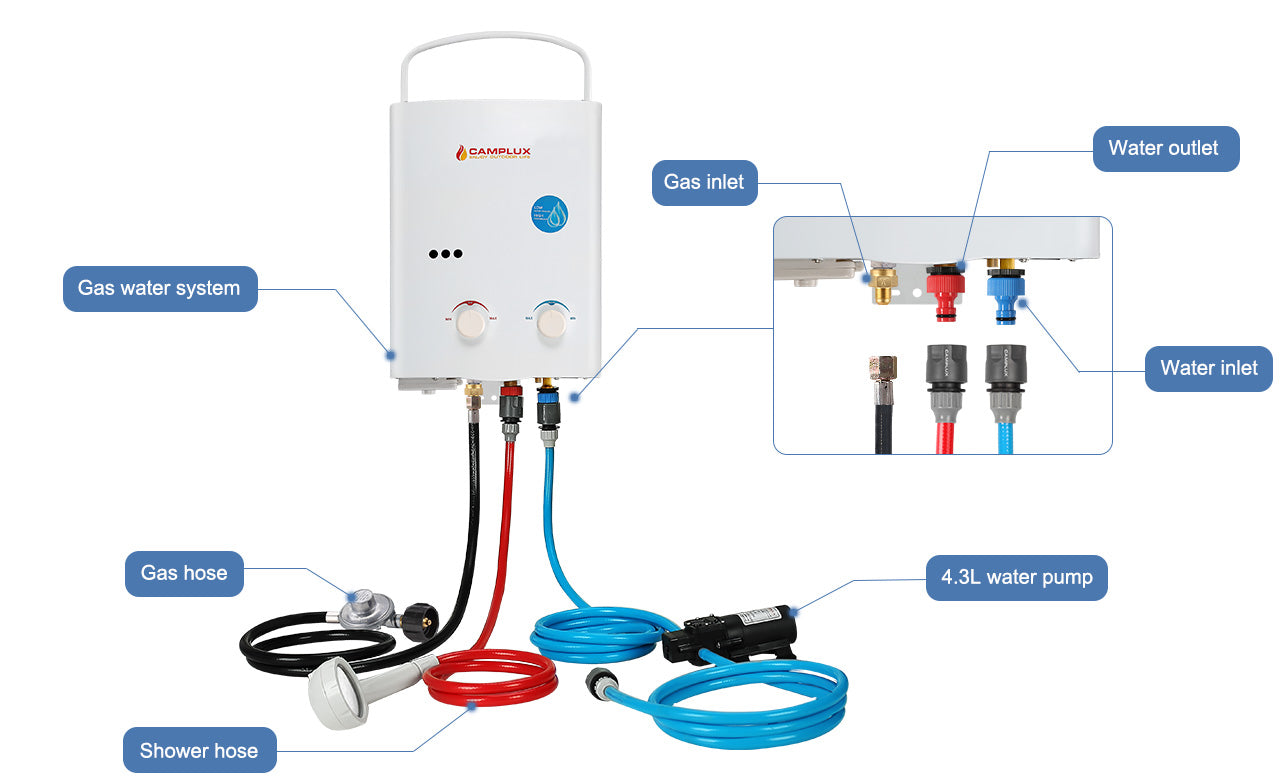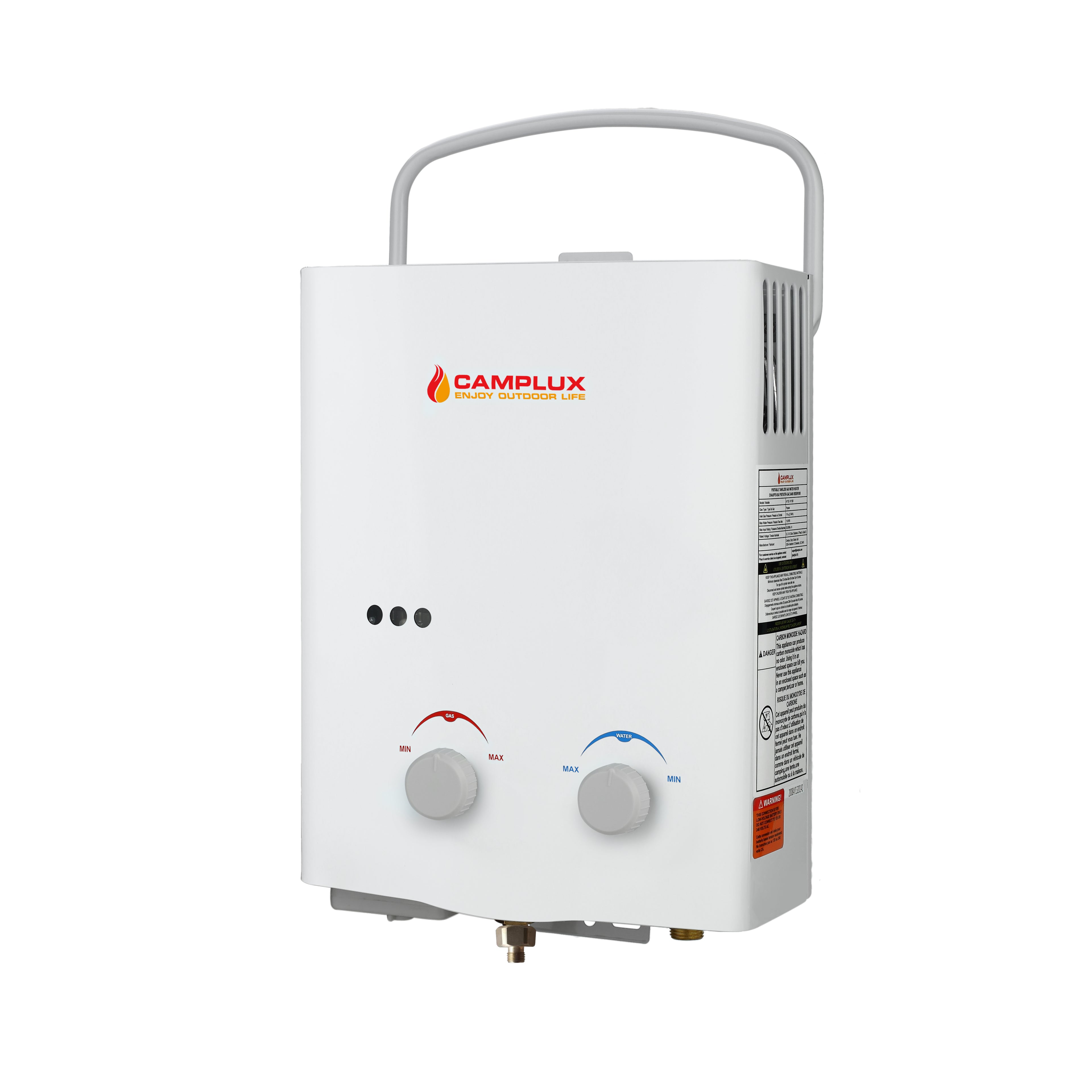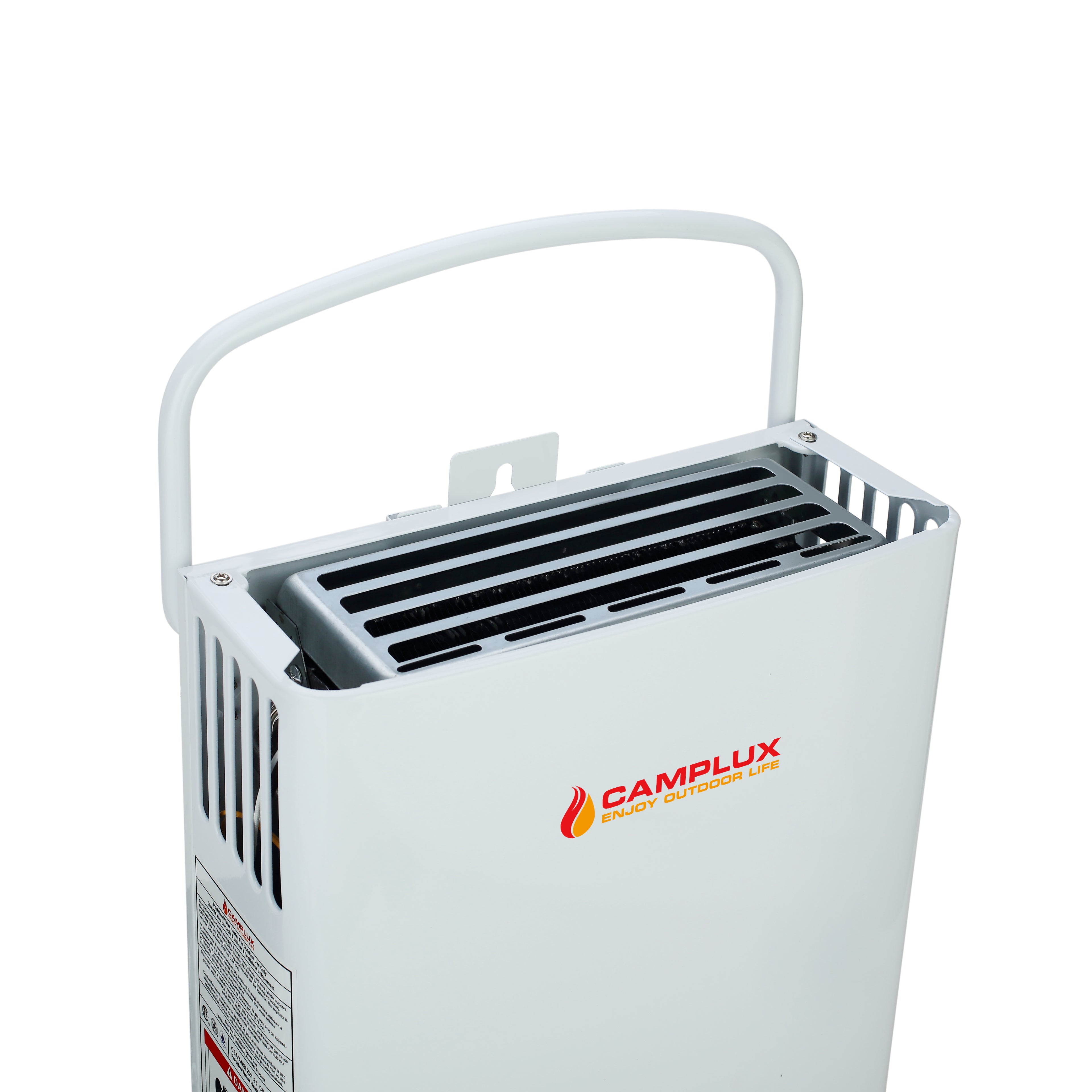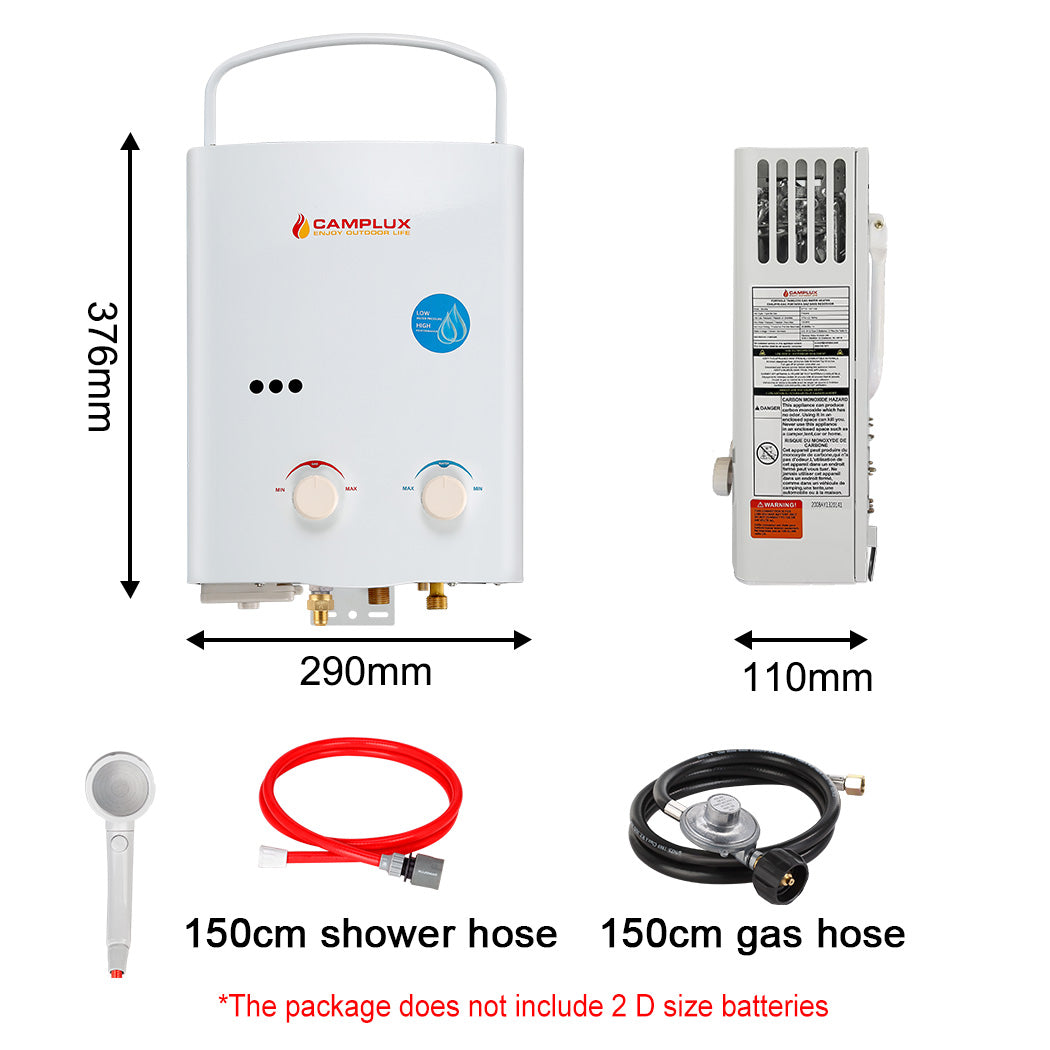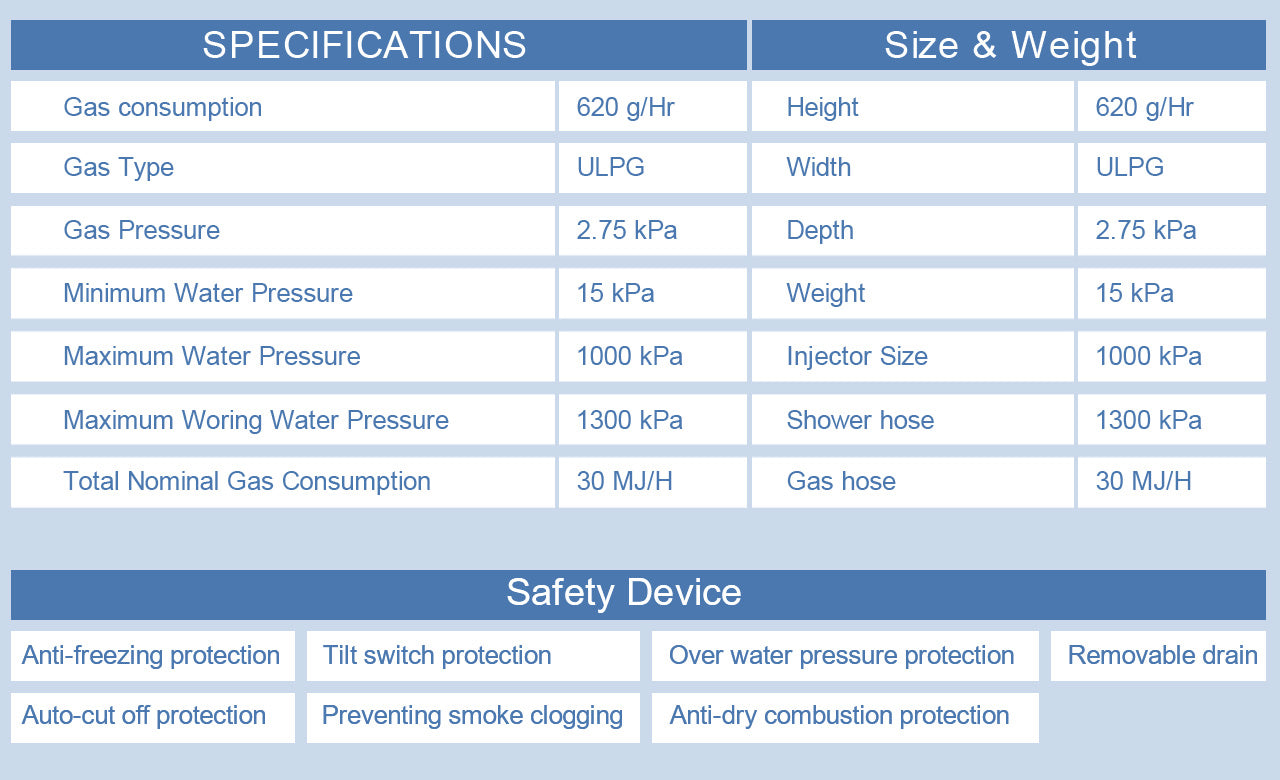 Camplux Complete Hot Water System 5L, Off Grid Tankless Water Heater - 4.3L Pump & 2 Blue Hose
【ENJOY TANKLESS & ENDLESS HOT WATER】 Delivering 5 litres of endless hot water per minute when the shower head is on. You can enjoy hot shower, give a comfortable hot spa for your horses or pets with this portable outdoor shower.
【MULTIPLE PROTECTION】 Flame failure protection, overheat protection, oxygen depletion safety shutoff protection to ensure your family safety. Drain plug is applied to drain the residual water from the appliance to avoid being frozen or broken.
【SAVING ENERGY & MONEY】 Camplux AY132P43 employs energy saving technology, higher temperature raise at same cost of gas. Unlike the storage water heater, this tankless water heater only heats the water in amount for you need. No need to be preheated, thus eliminating the waiting time for hot water.
【ANTI-TILT PROTECTION】 When the camping hot water system being knocked over or tipped in any direction beyond an angle of 45° from the vertical, all gas supply will be shut off automatically.
【EASY TO OPERATE】 You can simply adjust the water and gas flow to achieve your desired temperature. Temperature ranges from 10~65°C. Configured with a 4.3L water pump to boost the water pressure, it is great for campersite, RV, stables with low water pressure.
1X Hot water system

1X Shower head with on/off switch

1X 1500mm premium shower hose

1X 1500mm gas regulator

1X Instruction manual

1X Mounting accessories

1X 4.3L pump

2X 6.5 Feet Extension Hoses w/ Quick Connector
Shipping Method:
We use Australia Post to have your item/items delivered.
Shipping Time: 3-5 business days.
Order Processing Time: 1-2 business days.
*Business days don't typically include weekends, however Saturday and Sunday deliveries may occur in certain zip codes.
*If you need to request a cancellation or make any changes to your order. Please contact our customer support as soon as possible by telephone at (844)-538-7890 or email at (service@camplux.com) Monday - Friday from 9am -5pm EST. Unfortunately once an order has been sent to our warehouse we cannot guarantee cancellation or changes as to we are working quickly to get your order to you.
1: If you would like to return an item, please contact our customer support via email at (service@camplux.com) or telephone (844)-538-7890 Monday - Friday from 9 am -5 pm PST to request a return within 30 days of delivery for a full refund. When contacting our support team ensure you provide them with your return reason.
2: Returns made without approval will not be accepted as to we have different return addresses for different products.
3: For returns due to buyers remorse (ie: Order by mistake, Does not fit, Change my mind, No longer needed, etc) customers are responsible for the return shipping cost along with a 20% restocking fee applied. You should also save your tracking number to confirm when your item has been received at our location. Items being returned due to defects or quality issues a pre-paid return label will be provided to you upon you providing us with any pictures/videos showing the issue you are encountering.
4: If an item is found to be damaged in shipping. Do not accept or sign for the product. Simply refuse the package with the carrier and contact our customer support asap.